---
Prof. Jens Biegert selected as 2016 OSA Fellow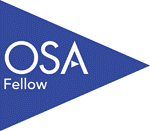 Prof. Jens Biegert has been selected to join the 2016 class of Fellows of the Optical Society (OSA). He is being recognized "for pioneering work in the development of ultrashort and intense few cycle pulses in the midinfrared, and their use in analyzing the structure of molecules".
br> Recognizing members who have served with distinction in the advancement of optics and photonics, The Optical Society (OSA) Board of Directors is pleased to announce that 77 OSA members have been elected as the newest class of OSA Fellows. Fellows of The Optical Society are elected based on their significant contributions to the advancement of optics and photonics and are selected based on several factors, including specific scientific, engineering, and technological contributions, a record of significant publications or patents related to optics, technical or industry leadership in the field as well as service to OSA and the global optics community.
"The 2016 Fellows are excellent examples of leaders and innovators in the field of optics and photonics," said Philip Russell, President, The Optical Society.
The OSA Fellow Members Committee reviews nominations submitted by current OSA Fellows and then recommends candidates to the OSA Board of Directors. No more than 10 percent of the total OSA membership may be chosen as Fellows, making the process both highly selective and competitive. The new Fellows will be honored at OSA conferences and meetings throughout 2016. In addition to their recognition, Fellows may apply for travel grants to visit and lecture in developing countries and may nominate OSA members for Fellow consideration.
Recommended Posts
12 Sep 2016 - news
02 Sep 2016 - news